Alarming news has appeared in some Media about the deaths of some American citizens in the Dominican Republic. What at first seemed like unnatural deaths, have turned out to be after medical examinations: heart attack; septic shock; pneumonia…

This news, with distorted and exaggerated information of reality, has created a crisis in the tourism sector of the Dominican Republic, a pillar of the economy of that Caribbean country that employs 300,000 people.
Statistics show that you are more likely to be killed in a homicide at home in the United States than to die from unnatural causes in the Dominican Republic.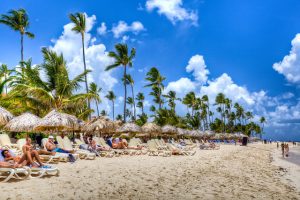 More than 2 million American tourists visited the Dominican Republic in each of the last two years and despite a 7.9% increase in US visitors. Between 2017 and 2018, the number of unnatural deaths has decreased since 2015, according to statistics from the US State Department.
Seven Americans have died in the Dominican Republic this year for unnatural causes, which fell from 15 reported in June 2011 and 2015, according to NBC News.

Unnatural deaths include drowning, homicides and vehicle accidents, the latter being the main cause of unnatural death among Americans in the Dominican Republic in automobile accidents, according to statistics from the State Department from 2014 to 2018.

In the United States there is a much higher homicide rate.
The chances of an American dying from homicide in the Dominican Republic (0.19 per 100,000 in 2017) are much lower than the probability of dying in a homicide in his country.

The last death of the United States in the Dominican Republic was due to heart failure, according to an official.
As of 2017, the rate of homicides, homicides, and non-negligent homicides in the United States was 5.3 per 100,000, according to the Pew Research Center, citing FBI data.

In some US cities The homicide rate is significantly higher: approximately 66 per 100,000 people in St. Louis, 56 per 100,000 in Baltimore, 40 per 100,000 in Detroit and 40 per 100,000 in New Orleans.
Other destinations in the Caribbean have higher unnatural death rates, such as Jamaica and the Bahamas, but also the unnatural death rate among Americans is less than the probability of dying in a homicide in their country, the United States.